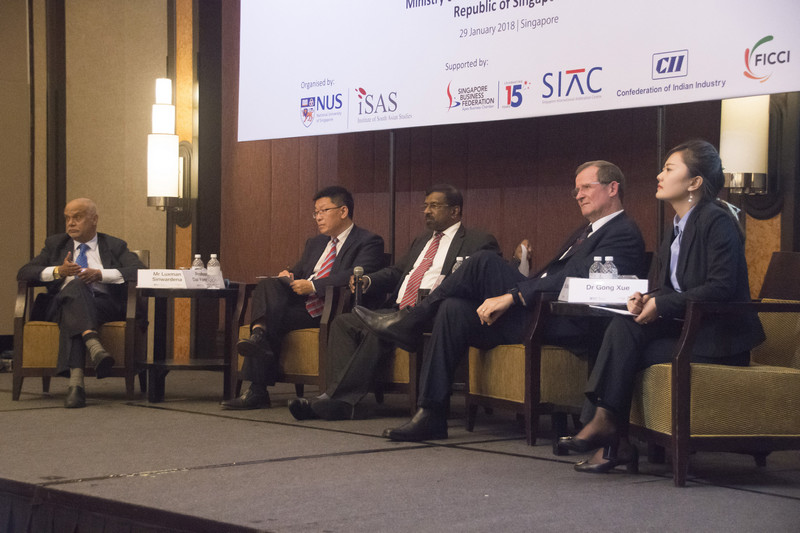 Joint ISAS-Pathfinder Foundation Symposium
The Institute of South Asian Studies (ISAS) of the National University of Singapore in collaboration with the Pathfinder Foundation conducted a Joint symposium on the Belt and Road Initiative. The Joint Symposium was inaugurated by Chairman of ISAS Ambassador-at-Large Gopinath Pillai, Ministry of Foreign Affairs, Singapore.
Stating that this was the first occasion Singapore conducted a symposium on the BRI and Singapore's enthusiasm could be observed by the large attendance at the event, Chairman Pillai said that his institute was happy to disseminate information on BRI. At the invitation of the PF, two academics from the Sichuan University of China, Prof. Dai Yonghong, Director for Myanmar Studies of the Institute of South Asian Studies, and Associate Professor Huang Yungson, Associate Dean of Sichuan University School of International Studies took part in the Symposium and made presentations on the China-Myanmar Economic Corridor and cyber security issues relating to the BRI. Bernard Goonetilleke, Chairman of Pathfinder Foundation, while welcoming the Guest of Honour Ms. Sim Ann, emphasized the importance for participating countries to come up with projects that would provide reasonable return on investment and minimize negative consequences such as degradation of the environment. He expressed the hope that both ISAS and PF would continue collaborating in the future as well.